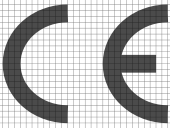 2018-12-10
Marking windows with "CE" sign
What is the "CE" mark? Who and what is it for? Where do such signs come from, which we often find on many products?
CE - an abbreviation of 'Conformité Européenne' or 'China Export' (which in our case is not of interest to us because it does not apply to a product imported from China). The CE marking on the product is information that the product being put on sale has been declared by the manufacturer met the standards required by the European Union.
To mark its product with the CE mark, the manufacturer carries out analyzes and takes actions to meet the relevant requirements, and then subject the product to the procedure of conformity assessment with the relevant directives. The manufacturer records the course and results of activities by issuing the Declaration of Performance of a given product.
In many cases (depending on the product), the conformity assessment procedure requires the participation of the so-called Notified Body. It is an organization designated by national authorities to perform tasks under the directives. The manufacturer is free to choose Units from the entire EU area. The manufacturer of the product places the CE mark on it himself (the CE marking must be affixed to the product by the manufacturer or his authorized representative in the European Union, in accordance with its legal format in a visible, legible and permanent manner), but must take appropriate steps. It is his duty to conduct compliance checks, create technical documentation and sign the EU declaration of conformity.
Please be advised that you can also find the CE mark on our products. Each window produced by us is marked with the CE sign and has its own unique serial number under which information about the type of wood from which it was made, the type of shaft assembly used, the exact size, type of silicone used, paint and color, hardware system, etc. In addition, the windows have labels on which information about the achieved standards can be seen based on the tested reference window. In the pictures we present, we present examples of signs that can be found on our products.